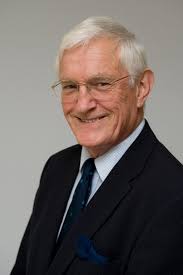 By Michael Grey*
As England battled Saharan temperatures, the depredations of climate activists and queues of multitudes trying to escape by air and sea, I returned for a week to my Northumbrian roots. The train ran on time, and while it may not have offered the silver service of yore, its extraordinary speed and friendly LNER staff helped those memories to fade. It was good to escape the mainstream media, although like every other under-resourced local newspaper, the Berwick Advertiser no longer has useful information, as it once did, about fish landings, livestock prices and the ships expected in the port. What little its reporters have managed to glean, I am told, is now "on line" and I could not be bothered to go there.
It is still the country I remember; a land of huge skyscapes, of space and beauty, of wild coastlines and empty shores, loomed over by the Cheviots. Mind you, perhaps because it has been so difficult to get to the Costas and egged on by TV programmes with celebrities "discovering" Britain, there are more crowds in popular places. On the island where I stay, the lady who sells fruit and veg. tells me that they have been "under siege" for months and they have been seriously looking at how Venice proposes to deal with their tourist flood, by charging visitors, or rationing the numbers. But the hordes don't like to walk very far and a mile away from the village you will be undisturbed, even in the height of summer.
It is an illustration of a problem that manifests itself all over the world. Places that support mass tourism are great for the economics, but tend to get overwhelmed by numbers and are increasingly miserable for those who just happen to live there and whose lives are hampered by the visitors. I suppose you could argue that if you don't like living in a picture-postcard place you should move away to somewhere less attractive, but why should you?
Growing undercurrent of objections
And with the return of the cruise ships, post pandemic, has come a growing undercurrent of objections to their size, noise, effect upon air quality and their substantial populations disgorged into the ports along their various itineraries. Upon my return from the North, I was reading about a group of Norwegian coastal towns which have launched a sort of collective push to get the cruise ships to push-off elsewhere. They presumably have been alerted to the growing list of popular destinations like Venice, Barcelona and places on the Alaskan coast and Florida, whose residents seem to have become thoroughly fed up with the huge floating condominiums that are here today, but replaced by another tomorrow.
There is no arguing that the trend for ever bigger cruise ships, which provide the on-board acreage to offer ever more lavish attractions, with their associated scale economics, has fuelled the objections to these ships. The pleasing aspects of ancient cities, whose city fathers have preserved their beauty and fought off modernist aficionados of high-rise buildings, are scarcely enhanced by having a couple of huge ships looming over them, just about every day of the season. You cannot deny that even one of these monsters alongside blocks up the view. The Norwegians, who put great store by their air quality, hone in on this aspect. Others just don't want great armies of tourists, who probably don't spend much during their short visits, blocking up their streets.
Of course, all this is hotly denied by those whose occupations depend upon tourism, whether it is the purveyors of fresh crab sandwiches to the visitors to my Northumbrian island, Venetian gondoliers, or the operators of motor coaches meeting the floating cities docking in small Baltic ports. And the cruise companies are not unaware of this undercurrent of dislike with a whole range of measures to damp down objections. The biggest operators have developed their own resorts, where their huge ships can lie without making waves ashore. They have spent lavishly to make their operations more sustainable, with cleaner exhausts, the use of shore power and quieter machinery, along with systems that ensure that there is no pollution from any source.
There are smaller "expedition" ships being built, which advertise their environmental credentials, and which can silently motor along pristine fjords on battery power, with efforts being made to leave wildlife undisturbed, in the more remote areas to which they cruise.
Of course, there is a hard core of active folk who wish that everyone stayed at home, eating locally-grown turnips, and with no tiny smidgeon of hydrocarbon in evidence. But maybe there is a case for these huge ships not to go anywhere where restive locals might be encountered. Let them instead take their several thousand passengers somewhere out of sight of land, where there are calm seas and let them enjoy the amazing variety of on-board facilities with which they are lavishly provided, while the ship peacefully drifts. Why would anyone want to seek external diversions?
One of my grandchildren was telling me of an exciting experience wearing a virtual reality headset, which rushed her around the world without going anywhere. Maybe that is the ultimate travel experience, and one that will finally remove the problems provided by too many people. Then we can all stay home.
*Michael Grey is former editor of Lloyd's List. This column is published with the kind permission of Maritime Advocate Online.
Photos by Pierre Terrien