Fincantieri's Vard division has delivered the eagerly anticipated zero-emission container vessel Yara Birkeland to its owner, fertilizer manufacturer Yara International. 
The 120 TEU Yara Birkeland is the world's first battery-electric container feeder for commercial use, and the project partners' ultimate goal is to operate it as an autonomous vessel. 
Yara says the vessel will first undergo testing for container loading and stability, before heading to a test area in Horten for further preparations for autonomous operation.
"Yara Birkeland is an example of Yara's ambition to innovate and find climate-friendly solutions which can be commercialized. However, innovation projects come with uncertainties and challenges. In particular, the autonomous logistics on land that have proven to be a challenge for the project. The construction of the ship has been done according to plan with slight delays, including the fitting of the battery, control and navigation systems, For the autonomous logistics on land the project team continues to look for simplified solutions to this," Yara said in an update.
After experiencing delays due to Covid-19, the feeder ship is expected to go into operations towards the end of 2021.
The hull of the Yara Birkeland vessel was launched at Vard Braila in Romania in February 2020 and transferred to Vard Brevik in Norway in May where it was fitted with various control- and navigation systems and undergo testing before delivery to Yara.
For the first phase of the project, a detachable bridge with equipment for manoeuvring and navigation will be implemented. When the ship is ready for autonomous operation, this module will be lifted off.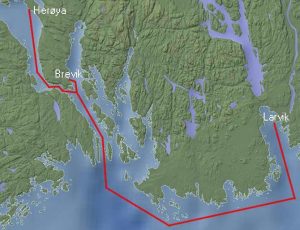 Loading and discharging is to be done automatically using electric cranes and equipment. The ship will not have ballast tanks, but will use the 7 – 9 MWh battery pack as permanent ballast.The ship will also be equipped with an automatic mooring system – berthing and unberthing will be done without human intervention, and will not require special implementations dock-side.
The autonomous ship will sail within 12 nautical miles from the coast, between 3 ports in southern Norway. The part of the area carrying most of the ship traffic is covered by the Norwegian Coastal Administrations' VTS system at Brevik.
"Yara's goal is to complete the project and bring the emission-free ship into commercial operation. Different ownership models or partnerships will be evaluated for operation and commercialization," the company said.